So, you have a pile of little kids and all those little kids need t shirts. You could go to the local Marshalls or TJ Maxx and get them the same shirt that every other kid in their preschool class will have. You know the one. That polo shirt with the three buttons and the stand up collar? That shirt that you have to fight with them to get them to wear? The shirt that has that embroidered logo that scratches the life out of them? Yeah, that shirt. Or, you could go out and buy them a pile of cool kids shirts that they will love.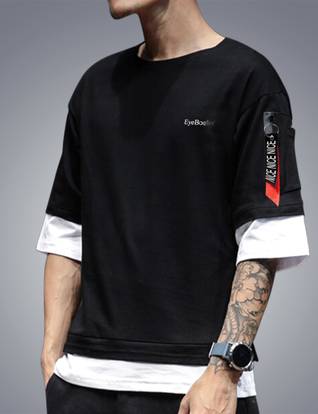 Why fight about getting dressed everyday. Kids need to feel comfortable in their clothes just like adults do Comme des Garcons Hoodie . Don't you remember that one outfit your mom made you wear that you just hated? I do. It was a scratchy peach dress with an awful blue bow that threatened to cut me in half. Ughhh! I just wanted to wear my Levi's and a cool t shirt. Ok. I know that sometimes kids just have to wear those scratchy tight clothes, but why not also fill the drawers with a pile of really cool kids t shirts. It will really make the start of everyone's day much easier. Graphic Printed T Shirts are everywhere today. You can find all over prints, or single image unique prints. You can find band shirts, and metallic Christian shirts. You can even find printed shirts that are so soft your kids won't want to take them off.
Some of the new t shirts for kids might even be able to pass for an event that they have to be a little dressed up. That same scratchy old polo can now be purchased in a soft 100% cotton with a cool graphic print on the bottom, side or back that will give it a little style. Try to be careful when buying kids embroidered clothing. There is a backing on embroidered clothes that can become stiff and very uncomfortable. Instead, look for soft fabrics with discharge or water based prints. (They feel softer to the touch) If your child loves fish or animals, try to find some shirts with that subject on it. How about a giant bear coming out of the side seam of the shirt? A little humor with a t shirt that says "Mayhem" in huge bold letters across the front? You've got to love a kid that's full of a little "Mayhem".
There are a lot of very talented artists and graphic designers making many, many very cool kids shirts. Dig around online and find some great stuff that your kids will love to wear. Who wouldn't want to get a pile of really cool kids t shirts as a baby shower gift. Some really unique unusual graphic shirts are sure to be the hit of the party. Hint: there are a lot of dads out there that love to see their infants in their favorite band shirts. A tip for the baby shirts. Make sure they are 100% cotton, and are printed with water based inks.